The 2nd & 7 Foundation Celebrates 2.7 Day on February 7
February 06, 2017
---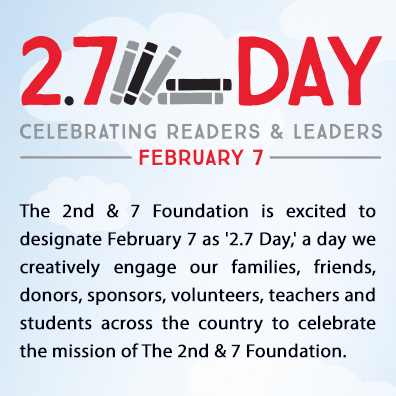 The 2nd and 7 Foundation has adopted February 7th as a day to promote and raise awareness for their organization. The 2nd and 7's mission is to promote reading by providing free books to kids in need while encouraging young athletes of the community to pay it forward. Since started by three former OSU football players in 1999, the foundation has given nearly 200,000 free books to 2nd graders nationwide.
In just one day, over 3,000 children will be visited by student-athletes and given a free book to take home. This is in addition to the thousands of 2nd graders The 2nd & 7 Foundation serves each year.
In central Ohio on Feb. 7, The 2nd and 7 Foundation and student-athletes from The Ohio State University will visit Tremont, Parkmoor, Cranbrook and Fairmoor Elementary Schools. Whitehall Prep & Fitness, Columbus Africentric and Richard Avenue Elementary schools will hold reading celebrations of their own.
Throughout the state of Ohio, 16 communities will celebrate 2.7 Day. Some schools, such as Felicity High School, Sandusky High School and Hamersville High School are planning events and reading to students that day, while other schools are joining in through social media promotion. Capital University and the following high schools are taking part: Hamersville, Felicity Franklin, Sidney, Colerain, Defiance, Kings, Medina, Sandusky, Lorain, Lancaster, Tuslaw, Jonathon Alders and Bridgeport.
Over 800 books will be given out to children across the country as well. Student-athletes from Marshall University (West Virginia), University of Kentucky, Western Kentucky University, Washington High School (Pennsylvania) and La Cueva High School (New Mexico) will visit 2nd graders to read to them and give them a free book of their own.
2.7 Day Open House
7:30 am - 4:30pm
7949 N. High Street, Suite B
Columbus, OH 43235
Lunch from Roosters (11:30a – 1p)
---