STUDENT-ATHLETE OF THE WEEK, BECCA LUFT
November 18, 2019
---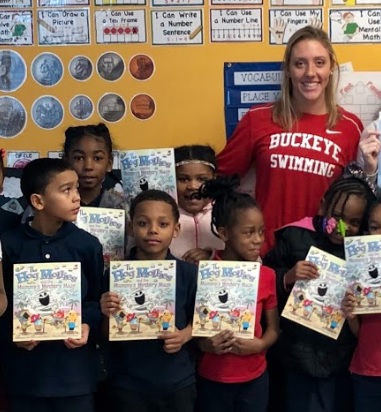 Congratulations to Becca Luft, our Student-Athlete of the Week! Becca is a senior at Ohio State University and a member of the swimming program. She is majoring in neuroscience and plans to attend medical school following graduation. Becca's career honors include Academic All-Big Ten (18, 19) and Ohio State Scholar-Athlete (17, 18, 19).
Becca enjoys giving back to the community and has participated in our outreach since her freshman year at Ohio State. Jordan Wade, The 2nd & 7 Foundation's fall semester intern, recently interviewed Becca about her involvement with our program. Becca shared, "2nd & 7 is so important because of its relationship with the community. Reading is so important in everyday life and every single profession. This outreach makes reading fun by giving young children role models." Becca has enjoyed meeting other student-athletes through our outreach. "Getting involved with 2nd & 7, I've gotten to meet so many people from different sports and learn about where other student athletes are from, what they're studying and what brought them here", Becca said.
Over the past four years, Becca has played a significant role in our outreach in central Ohio. We are grateful for Becca's belief in our mission and commitment to paying it forward!
Contribution by:
Jordan Wade
Undergraduate Student, The Ohio State University
Bachelor of Science, Candidate
Major: Accounting, Minor: Professional Writing
The 2nd & 7 Foundation Professional Writing Intern
---