PROGRAM SPOTLIGHT, OTSEGO HIGH SCHOOL
May 04, 2020
---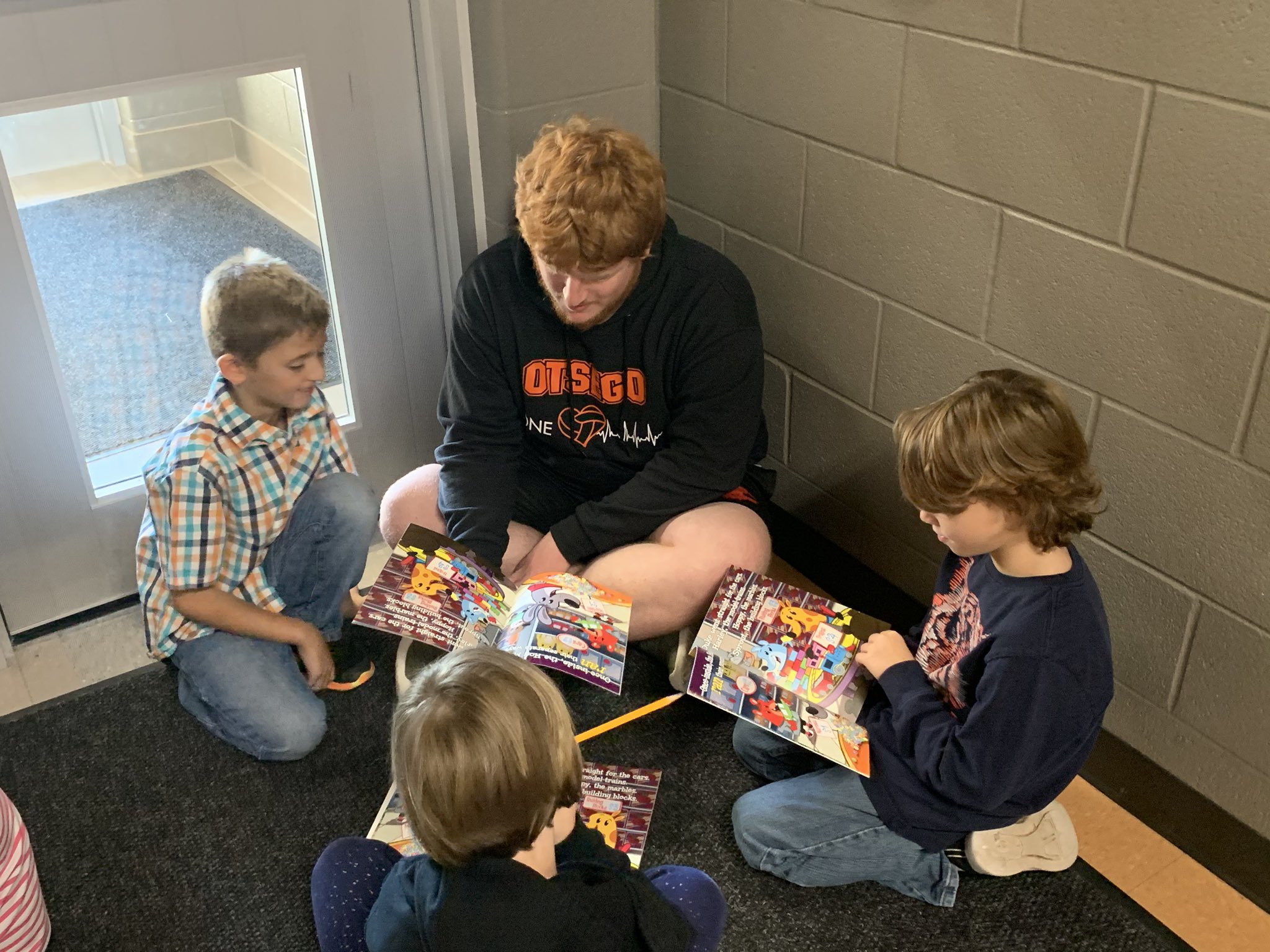 Program Spotlight – Otsego High School
In his three years as Athletic Director at Otsego High School, Tom Ferdig has inspired the school's student-athletes to support the mission of the 2nd & 7 Foundation to "Tackle" Illiteracy.
Ferdig, who also serves as assistant principal, explained that the Otsego program sees twenty-five to fifty student-athletes at their monthly 2nd & 7 readings. After reading aloud through one of the twelve "Hog Mollies" children's books with their small groups of second-grade students, volunteers discuss the "Who, What, When, Where, and Why" of the book with their group. During these discussions, second graders get a chance to talk to older students about the lessons they learned from the book and how they can use those lessons in their own lives.
To Ferdig, 2nd & 7 is not only a chance to improve literacy in younger students—the high-school athletes that volunteer their time benefit from the program as well. When I asked him how he recruits readers for the program, he explained that he has a pretty good grasp on who the leaders are on the high school's athletic teams. Ferdig said he tries to recruit upperclassmen or varsity-level athletes that already have established leadership roles on their sports teams. Additionally, he encourages other student-athletes—those that would benefit from seeing strong leaders at work with young students—to participate; he believes that involvement in the program improves leadership skills. For Ferdig, it's not enough to give students a book and send them off to read. He makes sure student-athletes are prepared to discuss the books and interact with students, and that they feel comfortable using the material. He relies on the experiences of his volunteers to know what works and what does not.
Aside from developing leadership skills, Ferdig has seen first-hand that the program encourages student-athletes to embrace their status as role models:
"I'll see some of the athletes, particularly after a football or basketball game, going up to the [elementary] kids that come out to see them, so it's kind of cool to see… I think the athletes are starting to realize that whatever level they're playing at in sports, there are kids looking up to them."
At 2nd & 7 readings, each young student receives a copy of that day's "Hog Mollies" book so they can follow along as the volunteers read; at the end of the reading, they get to call the book their own. Ferdig added that while participating in readings, student-athletes will often autograph the books for students. These small interactions leave a big impression.
The Athletic Director has harnessed the power of social media to spread the word about the 2nd & 7 Foundation on the Otsego High School Athletics Twitter page (@OtsegoAthletics), sharing pictures when his student-athletes visit the elementary school to read. He also mentioned that he's brought up the Tackling Illiteracy program in league-wide meetings to other athletic directors, and over half of the schools in the league are currently involved in the program.
In a word of advice to coaches and educators that are implementing a 2nd & 7 program in their own school, Ferdig suggests starting small; "Pick a small group to start with that's invested and sees the value in the program."
The 2nd & 7 Foundation thanks Tom Ferdig and Otsego High School for their participation in the Tackling Illiteracy program and their continued support.
Written by: Ashtyn Ley
Undergraduate Student, The Ohio State University
Major: English, Minor: Professional Writing
The 2nd & 7 Foundation Professional Writing Intern
---
Photo Gallery
---