PROGRAM SPOTLIGHT, MARTIN COUNTY SCHOOLS
December 16, 2022
---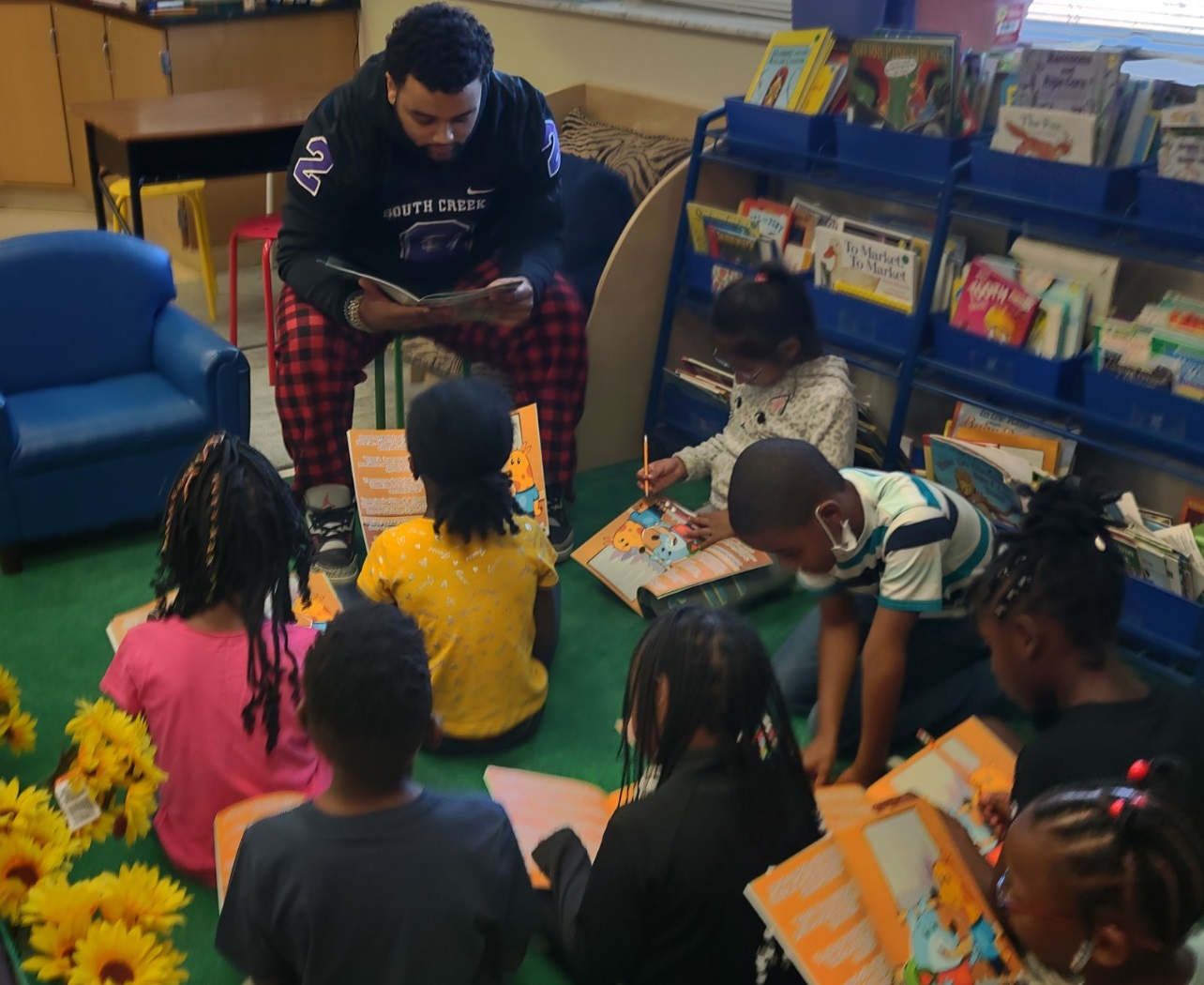 We are proud to feature one of our amazing national programs, Martin County Schools in North Carolina. Asim McGill is the Director of Student Development at Southcreek High School and Riverside Highschool, both in the Martin County Schools District. His goals are to ensure that his student-athletes were to give back to the community they come from.
The program in these two high schools is relatively new, they only got involved with 2nd & 7 last school year in the spring semester. McGill, a former coach, went looking for different programs where he could get the student-athletes involved. 2nd & 7 came up in his search. Through a connection with another coach who was already involved in 2nd & 7, and reaching out to 2nd & 7's national programs contact, McGill was able to start up the 2nd & 7 reading programs for his student-athletes to give back.
The thing that the high school students gain the most from being involved with 2nd & 7 is a different perspective. The students who are used to being stars in their sport may get pushed out of their comfort zone by reading to a group of second graders. Some high school students are not often around younger children so they have to learn how to be in a leadership role. McGill states that reading with second graders teaches high school students responsibility and maturity. It paves the way for how to become a leader.
It is important for high schoolers, as well as second graders, to know that reading is important for everything that they want to do. There might be an instance where a high school athlete wants to continue their sport in college but is unable to because of graders. "Readings is the foundation," says Asim McGill. Not only does reading to second graders increase the high schooler's awareness of the importance of reading, but it also allows the high schoolers to be better teammates to each other because they learn patience from the second graders.
McGill's most memorable experience happened over summer break. He was walking the track and there were little league football team practices. During the team's water break, one of the football players came over to McGill and asked if he goes to schools to read the Hog Mollies book. When McGill said that he was someone who participated in readings, the young football player told McGill that he reads his Hog Molly book every night before bed, even over the summer. McGill was touched that the experience of having high school athletes read to second graders was so impactful to the second graders.
The program in North Carolina at Southcreek High School and Riverside Highschool is important to helping the high school students to grow, as well as further impacting the second graders that get help to be better and stronger readers.
Written by: Grace Ernhardt
2nd & 7 Fall 2022 Intern
Ohio State Bachelor's Degree Candidate
---
Photo Gallery
---