The Most Meaningful Donation We've Ever Received
November 22, 2016
---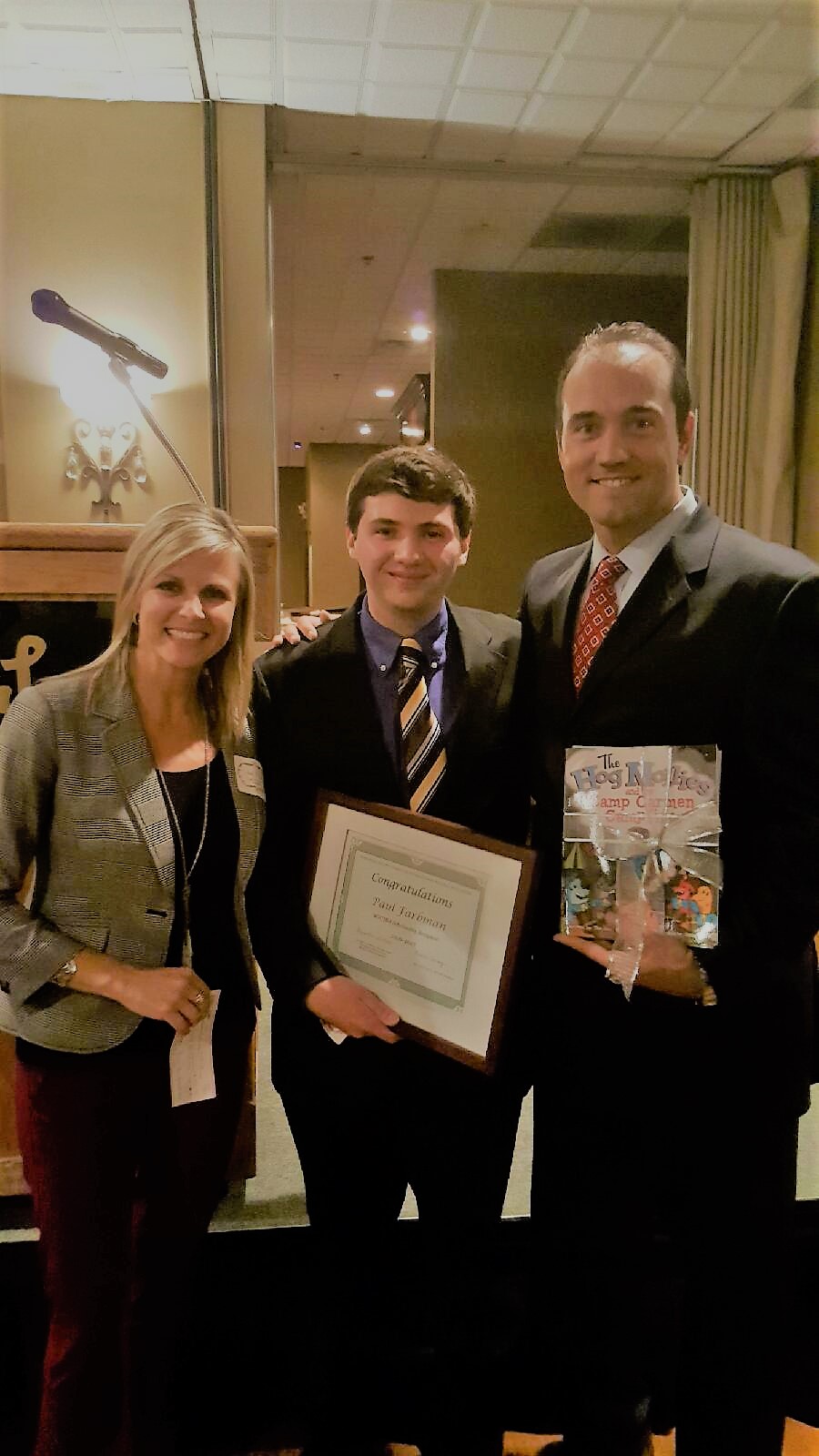 Thank you will never seem like enough. Earlier this month, a student from Youngstown State University, Paul Farbman, gave us one of the biggest gifts we have ever received.
At a dinner meeting of the Mahoning Valley Chapter of the International Reading Association, Paul was awarded a scholarship for his efforts as an education major at Youngstown State University. Among his numerous accomplishments, Paul was especially excited about his work with Project PASS, an initiative at YSU that pairs education majors with local 2nd graders to read together and help prepare them for standardized tests.* Paul is clearly passionate about reading, about teaching and most notably, about leaving a meaningful legacy. He will have no problem with that. In Paul's acceptance speech, he thanked his parents for the inspiration and support they have given him through the years. What we did not know is that his mother had passed away just a few weeks before. He was clearly very close with his mom and even while she was sick, they spent a lot of time talking about fun ways to incorporate reading lessons in the classroom --- using books from The 2nd & 7 Foundation. To hear someone speak about our Hog Mollies books in this context was surreal. Then Paul threw us for another loop. With his father watching proudly from the audience, Paul announced that he was donating the full amount of his award to The 2nd & 7 Foundation. A college student who just lost his mom. A college student just starting out, who undoubtedly has bills and plans and needs. His selflessness and maturity rendered us speechless. Paul confidently handed us the check and we noticed it was more than the amount of the scholarship award. Then we found out that he added in the donations that he and his father received in his mother's name after she died.
Thank you will never be enough. This donation was not about the amount of zeros on the check. It was about belief in the program, a passion for reading and teaching and a desire to make a difference in this world. We are so inspired by Paul Farbman and will never forget his generosity as we continue our fight against illiteracy.
*For more information about our partnership with Project PASS, please visit http://projectpass.weebly.com/
In honor of Kathleen Farbman . . . (October 2016)
Private family services were held today for Kathleen Susan Farbman, 56, who passed away Tuesday evening at Briarfield Manor after a courageous battle with cancer. Mrs. Farbman was born Jan. 10, 1960 in Youngstown and was a daughter of George and Kathryn Madden Ernst and was a lifelong member of the community. Mrs. Farbman was employed by the Mahoning County Board of Mental Retardation as a production secretary for over sixteen years. She was a graduate of Austintown Fitch High School, serves as a secretary for NA' AMAT USA, loved being outdoors enjoying nature and loved her family. Her amazing creative talents led to the development and the production of a monthly show called "Library Nights" where she was the set designer, director, producer and entertainer. The live show was composed of comedy, skits and singing. "Library Nights" was entertainment for adults with various disabilities and their family and friends. The show was viewed by an estimated 30, 000 people over a 13 year period through 146 shows. Mrs. Farbman put her heart and soul into each and every performance. It was that dedication which allowed "Library Nights" to be successful without any accolades for herself.
Mrs. Farbman was also an active parent volunteer in the Austintown Local School District PTSA, Austintown Choir Parents, and assisted with the Austintown Fitch High School Drama Club. Some of her most notable efforts included preparing room parties, tutoring in Ohio Reads at Woodside Elementary School, and helping to prepare materials and advertise for Austintown plays and concerts. Mrs. Farbman leaves to cherish her memory, her husband, Harvey Farbman, whom she married Dec. 20, 1992 and a son, Paul Farbman.
---
Photo Gallery
---