Internship Reflection: Devin Zeisset
August 19, 2019
---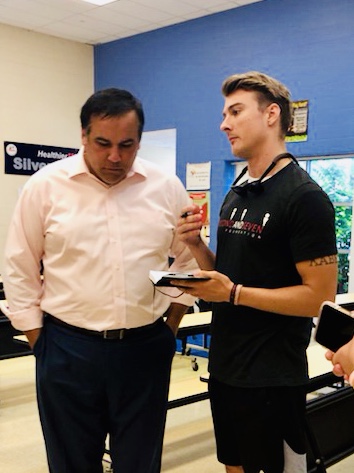 Summers are never long enough. The beginning of May and the excitement of starting a new internship seems like a not-so-distant memory. Working as an intern with 2nd & 7, I learned a lot: how to form press releases and contact the media, how to interview individuals and tell their stories through writing, how nonprofits interact with the community and spread their messages. However, the most valuable lesson I learned from 2nd & 7 is that people are the most important aspect of any mission—building a team of like-minded and hard-working people is paramount for success. From my first day with the foundation, Amy, Janet, Stephanie and Ryan welcomed me like an old friend, immediately making me feel like a member of the 2nd & 7 family. The board members arrived at the office, the gala, the football camp, and whether it was unpacking boxes or coordinating events, they worked with enthusiasm. When they could have spent their time in any number of ways, volunteers and student athletes traveled across the city to read, teach and influence our youth.
2nd & 7's impact is evident—it's written on the smiles of 2nd graders as they meet student athletes and receive their very own Hog Mollies book. At such a formative age, meeting a student athlete and listening to a reading could be the nudge that changes a child's life forever. 2nd & 7 affects positive change in so many lives—they've certainly changed my life for the best. Prior to working with 2nd & 7, I was unaware of the deep and diverse network of individuals inside a community who work together towards a positive goal. After working with the foundation, I know that I want to be part of something that impacts the lives of others, something that makes the world a better place. Like the countless people I've met over the past three months, I want to make a difference.
Thank you to the 2nd & 7 family for helping me grow and learn as a writer, a person and most importantly, as a member of our community. I was so fortunate to spend the summer with you, and I can't wait to see the growth and success that is sure to follow you. Summers are never long enough, but occasionally, you get to experience a summer that you'll never forget.
-- Devin Zeissett, Intern, Summer 2019
(In photo: Devin interviews Columbus Mayor Andrew Ginther during visit to a local elementary school during the summer.)
---