EDUCATOR SPOTLIGHT, LATA MOHAN
December 09, 2019
---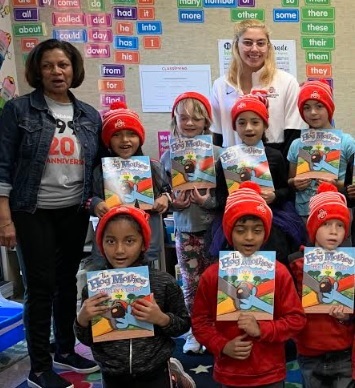 As an educator for over 26 years, Lata Mohan has been a positive influence for many students in the Columbus City Schools. Currently, Lata teaches 2nd grade at Gables Elementary in Columbus. Our partnership with Lata began over 15 years ago when she first signed up for a visit from The 2nd & 7 Foundation through our central Ohio reading program.
Recognizing the impact our literacy program has on young readers, Lata looks forward to a visit from The 2nd & 7 Foundation every year. "I have noticed the dialogue and conversations I hear from my students when they read a Hog Mollies book. The impact goes beyond second grade. Lata continues, "Literacy is very close to my heart. Working as a Columbus City Schools teacher, our students are not always fortunate enough to have books at home."
Lata enjoys many aspects of her profession. She is very proud of the lasting relationships she maintains with many of her students. Long after her students have moved past 2nd grade, Lata has been invited to share important life events such as graduations and weddings. Furthermore, the diversity within her population of students is something Lata appreciates and celebrates. She notes the benefits The 2nd & 7 Foundation's program has for her many ESL students. "The students know about the Hog Mollies series when they get to the 2nd grade. For my ESL students, I encourage them to read to their parents too."
We are grateful for Lata's commitment to young readers. With Lata's help, we have provided positive role models and free books to hundreds of 2nd graders at Gables Elementary. We look forward to continuing in this capacity for years to come!
Contribution by:
Jordan Wade
Undergraduate Student, The Ohio State University
Bachelor of Science, Candidate
Major: Accounting, Minor: Professional Writing
The 2nd & 7 Foundation Professional Writing Intern
---